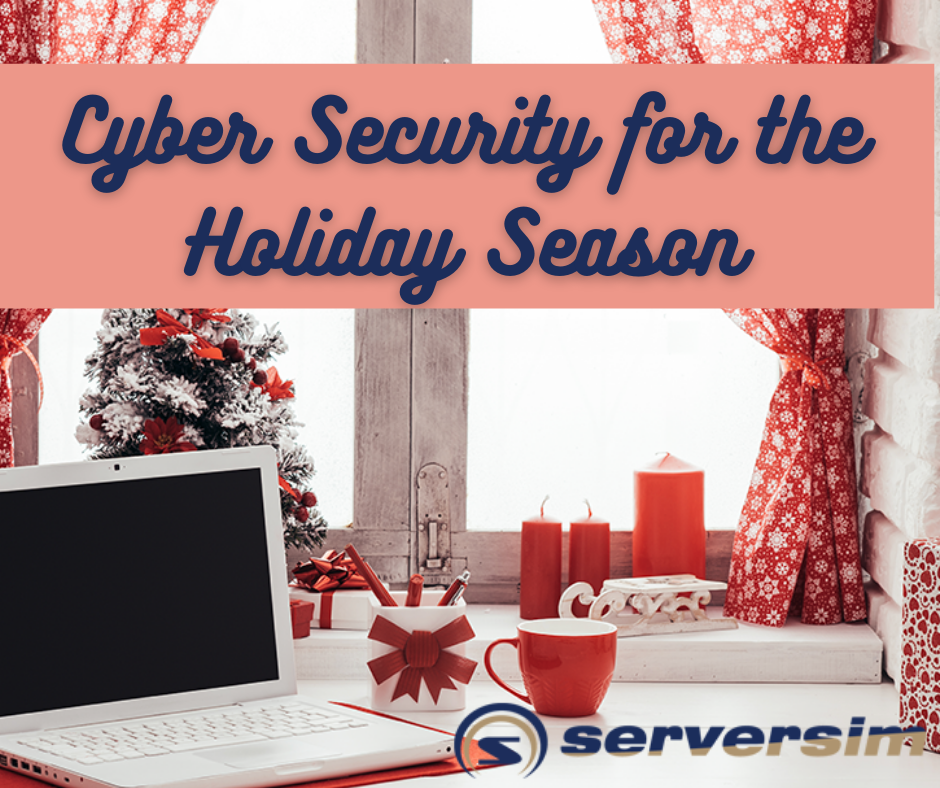 Posted: October 30, 2020
Protecting Your Company for the Holiday Season
With the holiday season rapidly approaching there are many things on your business's plate. While preparing for your customers needs and the influx of business are on the forefront of your mind, there is also another task that is needed to make sure you are protected for any outside threats that may make your business more vulnerable in these upcoming months. Cybersecurity is always something that your business should be prepared for, but during the holiday season it is even more prevalent than any other time of year. There are a few basic steps you can take to make sure you are protected while hackers and scammers are preparing as well.
Ensure Your Antivirus Software is up to Date
Don not put off updating your antivirus software until next year. Make sure any update or screenings are done before the holiday season gets into full swing. If you feel you need a new type of antivirus software, you can reach out to ServerSIM with any additional questions you may have.
Educate Your Team on Cyber Risk and Prevention
Making sure your employees know the signs of what to look for will be a great starting point for stopping phishing scams. Across all industries, phishing is both increasingly common and harmful. Email links and attachments are among the most popular delivery vehicles for malware and can cost companies millions. A breach to just one computer in your network could prove disastrous. That is why it is so important that you and your entire team recognize suspicious websites and email addresses when you see them. A well-educated staff and a clear process for reporting and addressing phishing attempts could make all the difference in keeping your IT infrastructure secure. Also make sure your employees keep an eye out for other kinds of hackers. Be wary of anything that looks or sounds suspicious such as calls from unknown persons, pop-ups, and unfamiliar websites, only open emails from trusted sources, and NEVER give your credit card or personal information to anyone you don't know whether over the phone, by email, or in person.
Secure Wi-Fi Networks
Wi-Fi has become a fundamental part of business operation but can also be one of the weak links in Cyber Security. Hide your network, which you can do by googling instructions or working with your internet provider, so that your router does not broadcast the network name (or SSID) and ensure that a password is required for access. Also make sure that you have a strong password protecting your hidden Wi-Fi. Also, in the event of employees working remotely or at home, make sure that they are using secure Wi-Fi networks. This will be one of the easiest ways for hackers to get into your information. Have a plan with your employees working from home regarding their own secure Wi-Fi networks outside of your office.
Back up Important Data Often
Regularly back up data on every computer used in your business including documents, spreadsheets, financial and personnel files, and more. You can do this through many channels from uploading files to an external hard drive, USB, the cloud, or using a paid data storage site.
Have a Recovery Plan
Even being the most cautious and being as prepared you can be, cyber-attacks still happen. Make sure your company has a plan with how to act when something becomes compromised. Also make sure to reach out to us here at ServerSIM immediately following a breach in security so we can help your company minimize any threat or damage that may come in.
The holiday's can be a stressful time for your business and dealing with a cyber attack can cost your company valuable time and resources. By following these steps, and regularly checking on your cyber security plan, you give yourself the best foot moving forward to stay protected and have as smooth of a time as possible even during this hectic time. Always remember, we are here to help you with any questions and concerns you may have. Reach out to ServerSIM through our website or call into the support line at 330-830-5570.